What To do when you lose motivation(helpful Guide)
Motivation Meaning ?
Motivation is just the urges of doing something, which creates a feedback loop in your brain. In other words, you only get motivated to do something when there is a reward at the end of it. Hence, we can agree to the point that motivation is nothing but a series of activities related to the end goal which is the reward, acting as a compensation. As I have described below in more detail.
Sometimes You watch a motivational video and tell yourself that — I must work harder now to get my goals. You seem to be motivated, but again after 4–5 days you get bored and you start to procrastinate. After listening to countless motivational speakers your life still does not change.
And, probably this is the problem, you get motivated but that energy does not last long.
But, why?
After watching videos your brain kicks you into work and again that drive again fades away. If You tried to act on your goal and vision in life but you are finding it hard to keep going then there is much more to it than just lack of motivation. Several factors such as the existing process, lack of skill, or absence of proper mentorship can also reduce your confidence in the persuasion of your ultimate motivation. Is there any solution to this, can you stay motivated forever. We will find out in this article.
Motivation Theory —
Where Motivation all starts? — it all starts with a desire.
for example —
Suppose you saw an attractive woman across the streets and decided to talk to here. She is gorgeous, tall, with a perfect body and a charming smile.
You got motivated to have a conversation with here. That motivational factor can be triggered by many emotions like — Sexual desire, symmetrical face attributes, attitudes, etc.
And there is nothing wrong with it, so you got into the relationship with that woman, but suddenly as you know in every relationship comes a time where things start to get a bit messy.
This is called the "dip" in particular.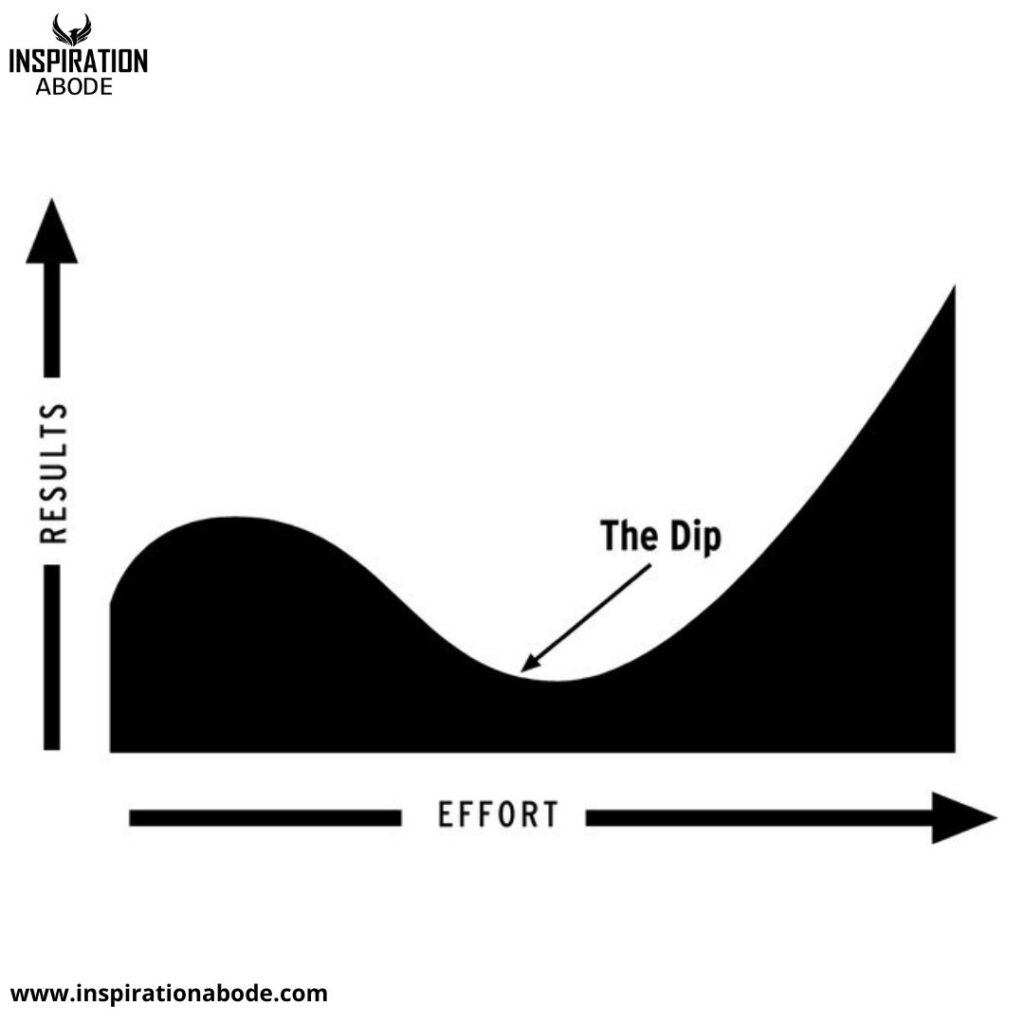 Long term Motivation is all about hitting that dip, and If you feel that you are in a Dip, then you should not quit, because in the beginning when you first start something, it's fun and Over the next few days and weeks, the rapid learning you experience keeps you going. Whatever your new thing is, it's easy to stay engaged in it. And then the Dip happens.
The Dip is the long slog between starting and mastery. A long slog that's actually a shortcut, because it gets you where you want to go faster than any other path."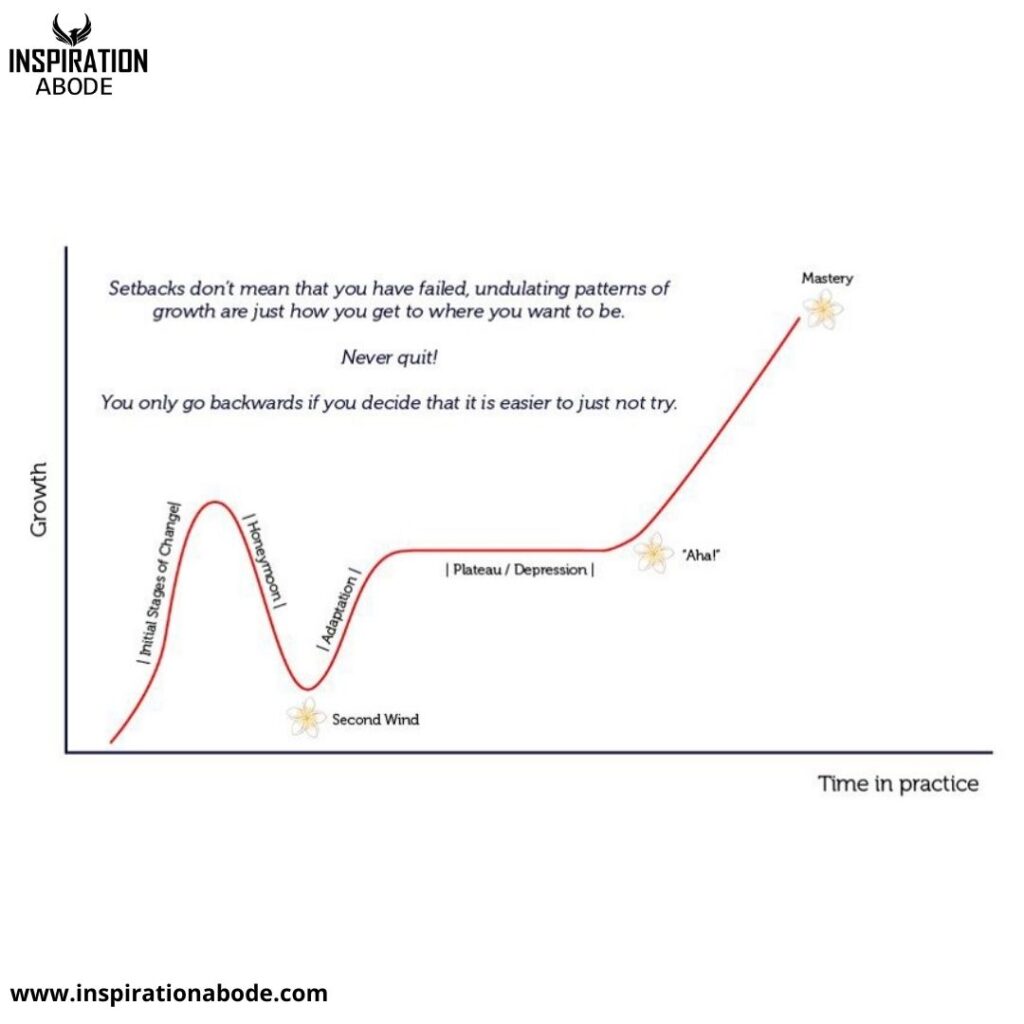 "The Dip creates scarcity; scarcity creates value."
Across language learning, company building, and any kind of creative project, there is a dip.
The dip is the long stretch between beginner's luck and real accomplishment. Extraordinary benefits accrue to the tiny minority of people who are able to push just a bit longer than most.
In simple words — Hold a little bit longer, before the rewards show in front of you. Most people quit when they see a Dip and never really find out what they are running after.
When you lose Motivation-The start before the Dip
In any goal that has to be accomplished, there is a start. It usually gets overlooked, as it's always there.
You see the second wind stage in the above graph is always hard, and even tougher is the stagnant line considered as plateau or depression stage in the graph. You just need to keep going, no matter " How good your reasons are", you will find a stage in your journey which will make you feel the same.
Then you will understand that you are closer to your goals.
The start is a much bigger problem since you can't reach the dip if you don't get through the start, and many more people fantasize about doing something than actually doing it and they give up soon.
The goal is not to write a book but start writing first.
The goal is not to be a swimmer but start swimming
The goal is not to be a runner but to wake up every morning a start running.
It is all about taking the First step and letting your habits synchronize itself with the flow of your work.
Motivation Management —
The biggest problem we face with completing our projects isn't productivity or time management, but lack of "Motivation management". When you are sufficiently motivated to accomplish something, you will do anything to do it without making excuses. Motivation is "the reasons and causes one has for acting or behaving in a particular way".
or in other words, "The general desire or willingness of someone to do something".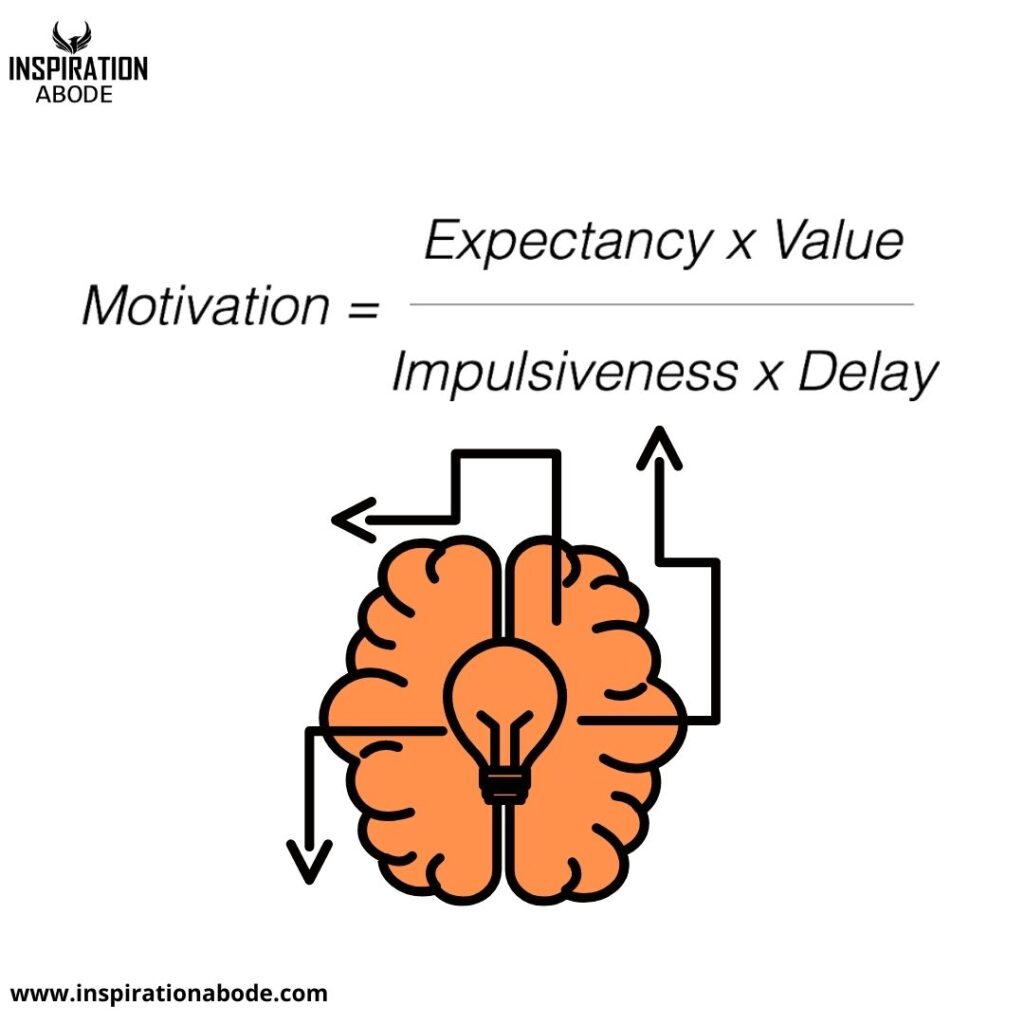 As they describe it, your motivation is a function of your Expectancy (how likely you think you are to accomplish the goal) multiplied by the Value of the goal to you, divided by the product of your Impulsiveness (how distractible you are) and the Delay (how far off the result seems)
How to get motivated to start something?
Positive Motivation Loop
when you Increase your reason to start a project, by increasing the value of starting it you actually find true meaning in the activity.
Increase your expectancy of succeeding at that project and even in the case of a failure, you will try to learn from it.
Decrease your reasons to delay, by increasing urgency, using the deadline for every task.
Negative Motivation Loop
When you set a goal without knowing why you are doing it then there is no meaning of starting it because if you fail in it you will quit immediately.
It results in loss of belief in your won abilities to make steady growth and things seem to be an uphill battle.
Eventually, you become unmotivated, this creates the whole negative motivation cycle.
The solution? Set small, incremental goals that are sufficiently exciting to be motivating and which you have a reasonable expectation of hitting.
Use of the Parkison's law —
if you ever fail to achieve the small short-term goals that keep you motivated in the long run then apply this amazing law called the Parkison's law.
in simple terms,
Parkinson's law states that means that if you give yourself a week to complete a two-hour task, then (psychologically speaking) the task will increase in complexity and become more daunting so as to fill that week.
It may not even fill the extra time with more work, but just stress and tension about having to get it done.
By assigning the right amount of time to a task, we gain back more time and the task will reduce complexity to its natural state.
How to keep Yourself Motivated
I had this same problem, after accomplishing a goal I was so overwhelmed by my own success that I forgot my next goals. Your vision should not get blurred in the dust of overwhelmed emotions. Therefore, maintain asense of expectancy in a project using small wins and accomplishments.
Reward yourself as you climb up the ladder of your target. Find value by finding a way to remind yourself of the bigger picture of the small, everyday start hustling for the small goals which will compounds overtime. By doing this you will be able to keep yourself motivated.
and more important than setting a goal is to set a vision and system of who you are going to become in a few years from now and let that motivate your because as per my view setting goals and accomplishing them are just momentary, once you are done with your goal you stay the same person but when you start to set a vision you actually tend to change your habits to match up with the future you.
in simple words — Chase an idol rather just hanging around from goal to goal.
Conclusion
everything you do is a long term process, give if time at least 2–3 years if it's no more working then it is time to quit. Every seed you plant needs time, the way you nurture your expertise in a respective domain predicts your overall progress as you go.
Motivation is a long term goal, find something that you are passionate about so that in tough times you can handle the pressure without any fatigues and complaints.
Thanks for reading. Have a good and productive day !!.
Comment Below what is motivation for you in 1 line
Want to read some books ? and increase your knowledge ? then Click the button below