Shocking Things You Don't Know about Introverts
Are you an introvert or do you have an introvert friend? If your answer is yes then read ahead because you are going to discover shocking truths about introverts you don't know.
In a nutshell, there are many benefits in the characteristics of an introvert, starting from the presence of mind, better imagination, Patient listening capabilities, a good observer, etc. But apart from all these, there are even some more truths about introvert that have never heard anywhere, with my research and reading various books and article I have found the guide to understand an introvert properly.
When I say "Introvert", what comes in your mind?
They are quite shy
They hate to be around people
They stay depressed
They lack communication
They don't enjoy their life
these are the very common assumption of the world around you, Introversion is somewhere considered some kind of ancient cavemen who don't know the excitement of modern life.
is this really the Truth?
are introverts really, anti-social and shy?
Are there any benefits of being an introvert in this dynamic world?
We will cover all your answers right here.
An introvert meaning
An introvert definition can be simplified by representing an individual who is quiet, thoughtful, reserved and they are great thinkers. They don't like to talk much. but talk straightforwardly and clearly, they love spending time with themselves.
And They don't seek out special attention or social engagements, as these events can leave introverts feeling exhausted and drained, which is explained as you go through this article.
How to find that you are an introvert?
there are basically 3 types of characters in this segment.
Introvert — If you are quiet, enjoy being alone, and love creating something of your own then you might fall in the category of an introvert.
Extrovert — They are loud, bold and really enjoy other people's company
Ambivert — A combination of both introversion and extroversion is known as an ambivert.
We will cover a lot more, as we go through this article.
To find whether you are an introvert or not, you have identify, whether you love to spend time alone with doing your own things ( painting, reading, designsing etc) or whehter you get too overwhelmed by excessive contact with people or not, though it is not necessarily an indication that introvert hates people they love to spend time alone because it has some scientific reason that we will cover below.
Why Introverts are different?
okay, just to be clear I am also an introvert. Suppose you are invited to a party. A gorgeous evening and a bright sky full of stars. You are too excited to meet new people and get along with them, of course, that is what most of us might think.
Right?
But, not in case of an introvert. You see when you meet new people at the party you will feel excited and energized. Introverts also like socializing with people, but after some time they need to recharge the chemical balance in their brain.
what is it?
Introverts are dopamine sensitive in other words, Meeting with new people or having your favourite dish releases a chemical in your brain called "Dopamine". In a simple definition, dopamine makes you feel good. But in the case of an introvert, it a bit different because they are quite sensitive to dopamine, unlike an extrovert. in the case of an extrovert, they crave more dopamine whereas an introvert loves to enjoy things slowly, hence release a Chemical called acetylcholine.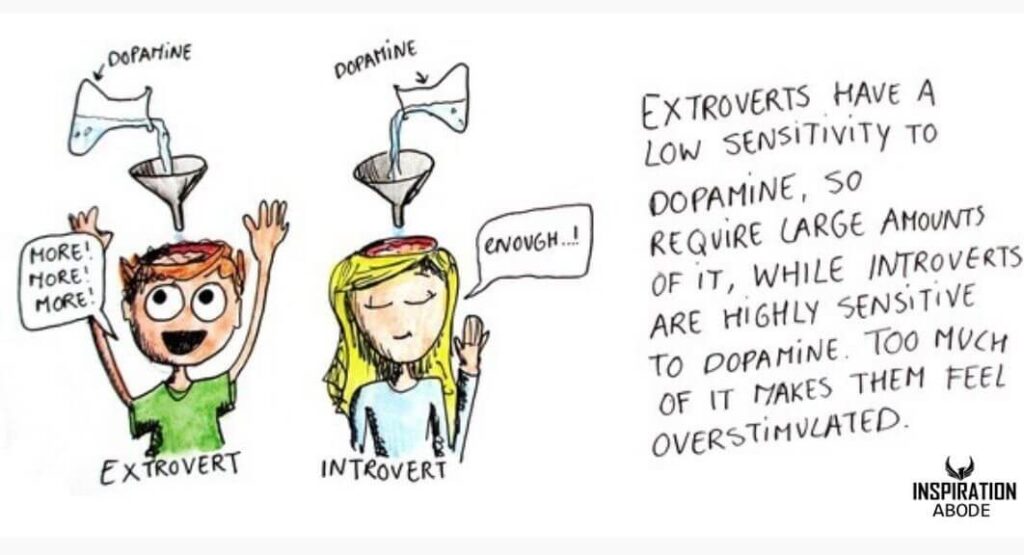 acetylcholine, in other words, it makes an introvert more focused and makes a soothing effect on their mind. This gives them a slow and calming feeling of excitement which they absolutely love.
for example — drawing, or sketching an art, writing poetry, reading a book and etc are the activities that allow acetylcholine flow.
Introvert traits – Things You Don't Know About Introverts
They are highly intelligent — There's a lot of evidence out there that shows introverted people are more intelligent on average.
For example, a study done by The Gifted Development Center showed that 60 per cent of gifted children are introverts. Studies also show that introverts are more verbally intelligent than extroverts.
But, It's not like that if you are an extrovert then you're unfunny, right-handed extroverted morning person does not prove that you're not smart. These are just such traits that set introverts a bit apart from the rest.
Greater Tolerance level — An individual who is an introvert, has a high level of tolerance level. They can adapt themselves too easily and are highly flexible in nature. Talk to an introvert and you will find out a "How soothing and beautiful his words will feel".
Great Listeners — An introvert listens more than he speaks. People in this society feel, that if you can speak louder then only you are confident. But, that is just the opposite.
The louder a person speaks, it shows his feeling of insecurity. An individual who listens more proves the understanding capabilities he has towards others.
These people are more sympathetic and helpful. If you have such listening powers then consider yourself very lucky.
Good observant — In this noisy world, where people rarely reflect on themselves, being an observant has a huge advantage. An introvert has a good ability to observe things and people around them, and also in their personal life, that is why they are able to get things in order so effectively.
Self-reliability — An introvert can spend countless time all alone, reflecting and finding himself.
They are self-sufficient as well as love their company, it allows them to be creative and work on their wild hobbies and project. Introverts may know many people, but they like to keep very few close friends, and they don't expect people to make them happy.
They are highly focused — Due to the release of a chemical called "acetylcholine" in their brain, they became really focused while doing any work they love. It is also said that an introvert likes to work with the door closed. Funny.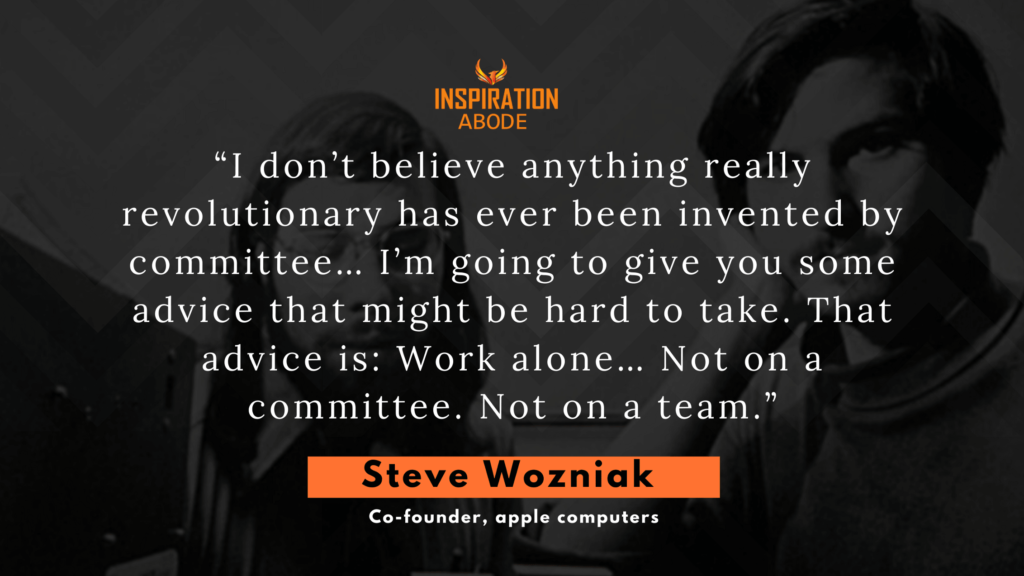 Introvert personality- Things You Don't Know About Introverts
Now that you have known some of the major traits of an introvert, then consider yourself lucky if you have one of such friends because you can literally learn so many things from him.
Introverts are really empathetic and can help you in your toughest time if someone hurts an introvert then be aware —
They might forgive you but will ever forget what you have done. They will stop asking for help.
They will reply with one-word answers
they will stop answering your calls, even if they are not busy.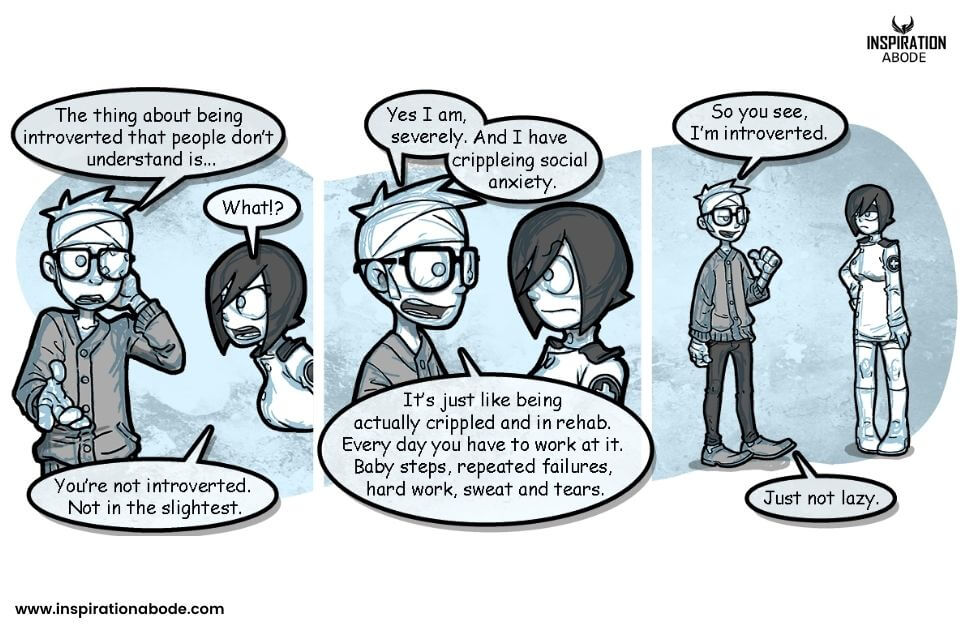 They are quiet
They will smile at which others will finding wierd.
They are a master in finding flaws.
An introvert can pretend to have many emotions at one time.
They often keep a journal.
They embrace solitude, which most people detest.
Top 10 Introvert Quotes
I was never less alone than when by myself-Edward Gibbon
Silence is a source of great strength-Lao Tzu
The day I began to live in the day I discovered being an introvert was awesome-Maxime Lagacé
I wish, as well as everybody else, to be perfectly happy; but like everybody else, it must be in my own way-Jane Austen
Introverts are word economists in a society suffering from verbal diarrhea-Michaela Chung
One can be instructed in society, one is inspired only in solitude-Gary Mark Gilmore
Live your life the way you want, not the way society tells you-Maxime Lagacé
Wise men speak because they have something to say; Fools because they have to say something- Plato
The most introspective of souls are often those that have been hurt the most-Shannon L. Alder
Don't think of introversion as something that needs to be cured… Spend your free time the way you like, not the way you think you're supposed to-Susan Cain
Famous Introverts People
Introverted people are not weak but are kind and honest about what they are. Some of those people have greatly impacted the lives of other people and are great leaders.
So, here are some of them
1.Bill Gates
He is an American business magnate, software developer, investor, and philanthropist. He is best known as the co-founder of Microsoft Corporation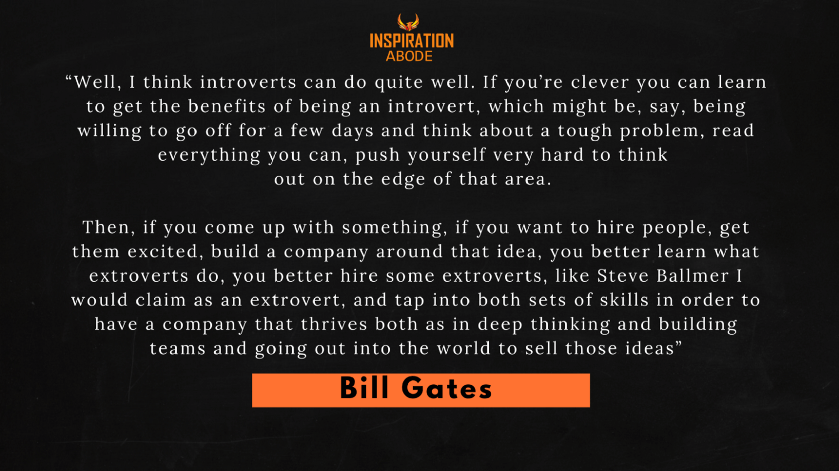 2. Abraham Lincoln
Abraham Lincoln was an American statesman and lawyer who served as the 16th president of the United States. Lincoln led the nation through its greatest moral, constitutional, and political crisis in the American Civil War
3. Henry David Thoreau
Henry David Thoreau was an American essayist, poet, and philosopher. A leading transcendentalist, he is best known for his book Walden
4. Albert Einstein
Albert Einstein was a German-born theoretical physicist who developed the theory of relativity, one of the two pillars of modern physics. His work is also known for its influence on the philosophy of science'
and there are many more of such leaders who have made significant changes in this world.
These are the things you don't know about introverts , aren't these points shocking?
Comment below one thing that you like the most about introverts.
and hey , if you want to know more about introverts then you can read a book called quiet by Susan Cain by clicking the button below ( audio book )