How to Discover Yourself in a World of Conformity
Imagine that you are a child again, Curious, innocent, and full of vivacity. When you were a child you asked too many questions, that made your parents annoyed. The butterfly that goes past you makes you chase it.
The clear smile and without a frown ,just roaming for something new putting an unknown crown in your head.
Remember, how you used to dream Big, climb trees, and get along with anyone irrespective of their background.
in your childhood, you had the following qualities
Curiosity on little things
Courage to climb trees and jump off the railings
Passionate about playing games with your friends
An Open Mind and a lovely smile without discrimination.
But, what on earth has gone wrong that when we grow up most of us lose every bit of your childhood's touch?
Is it that the society molds you? , your parents ? or your social circle?
There are many questions that surround this particular situation.
This happens mainly because you start believing in the evil culture and advice of the society that is stopping many from becoming an individual of greater significance. Don't get lost in the herd, don't follow those who demolish your identity.
You should try to create and find your true self because your existence depends on it. If you don't search for why are you even here in the world then you will end up like other, living life without any significant goal or vision will lead to mediocrity. Hence it is absolutely vital to know your deepest strengths and be self-aware. I have researched and shared some words from my own experience below.
Be yourself everyone else is already taken & Meaning?
"Be yourself everyone else is already taken" — This saying by Oscar Wilde has inspired me a lot and I was on the same journey. It simply means that in a world of many people you have to understand and find your deepest strength so that you can stand out in the crowd and open up as a person that you are meant to be therefore here I will share the ideas and insightful discussion on.
Now, this is what exactly it means to be yourself —
Knowing the strengths and weaknesses of yourself and accepting it wholeheartedly will help you to make progress.
Understanding that perfection does not exist, therefore it is better to improve yourself daily than to be like someone else.
Your qualities and abilities remain underutilized until you know how to use them and why to use them. The benefits of being yourself are that at some point in life you will get an idea of using those qualities.
There can never be another you — a pirate copy or a perfect copy of you. There is not a single person in the whole wide world like you. When you understand this, all the external factors are invalid. But if you fail to know this then everything around you will decide your direction in life.
Having faith in your beliefs and at the same time respecting other opinions.
Lastly, it helps you to understand when you are in alignment with your true feelings and intentions of your life.
Is it better to stand out or fit in?
I use to hear this question a lot of times, The one-word answer is "No", you should never fit in. Your life should be shaped by your qualities and attributes, if society forces you to jump on and follow everyone else, then it is far better to be a failure than to be what you are not meant to be. Finding your purpose and fulfilling it only serves your existence.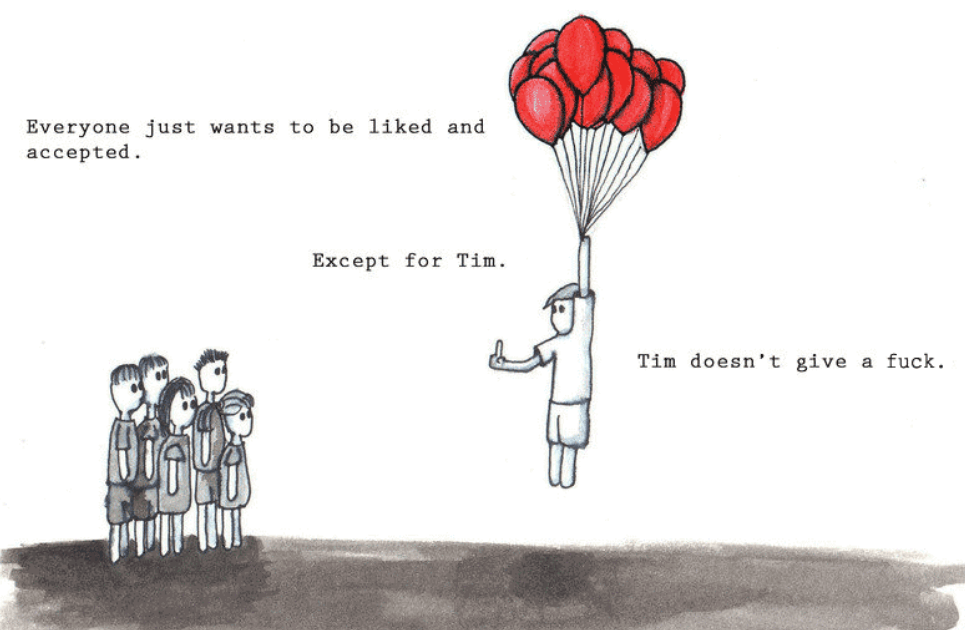 people will often tell you to be like others or you will appear wired among the society.
Always stay under the Radar is what we have heard all life growing.
let's just think about all those people who have made a difference in the world, People like Steve Jobs, the founder of Apple computers who is considered one of the pioneers in the "silicon valley".
Just imagine, if he had not followed his passion and tried to fit in.
Then today he might be flipping burgers in Mcdonalds today.
What's wrong with conformity?
Conformity, in other words, is to follow by the social norms and try to follow what others are doing. Always trying to fit in a social group to look cool is demolishing your ability to excavate your recognition. Conformity can ruin your progress in many different ways, as any bad influence or social group can manipulate your brain to adapt to be the same.
for example, leads them to smoke or use drugs against their will because they want to be accepted by their peer group
This phenomenon can reduce your chances to find yourself, as you will rarely spend any time alone and pondering your thoughts. You will rarely ask questions about existence and will simply live just for the sake of living.
Today, there are many potential millionaires and future influencers pout there and you can be the one too, but I can guarantee that 80% of them will fail because at some point they will accept what the world presents in front of them rather than having the willingness to find and explore for their purpose.
How to stand out from the crowd-How To Discover Yourself
The best way To Discover Yourself is to really find who you truly are, and this process is a series of trials and errors. The following points will help you.
Spend time alone — people will tell you that spending time alone makes you depressed, but that is not true. We human beings need time to think and to plan for a good cause, but we rarely give ourselves that time. Be good to yourself and slow down, take time and know your inner calling.
Being alone is a good thing, it allows you to liberate your mind, it allows you to think clearly about what you really want.
Remember
When people hear about spending time alone, they confuse it with loneliness. But, there a lot of difference between two, one is a choice and another one is a situation.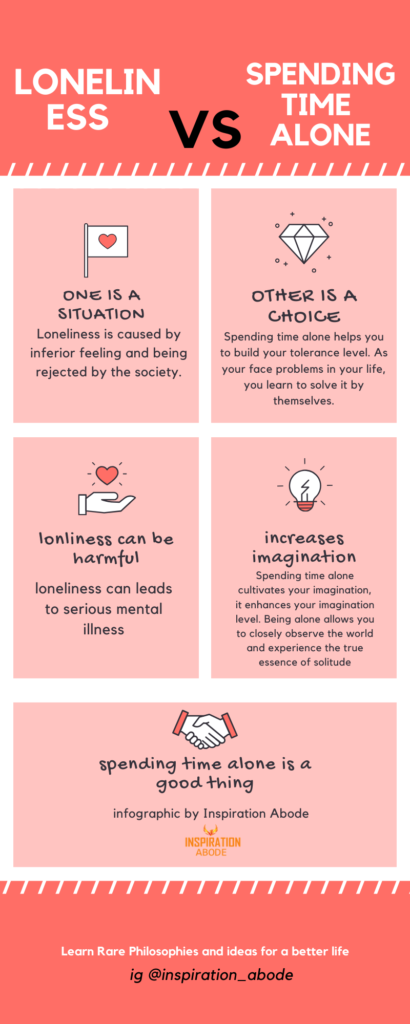 Engage with Bright people — Your brain tends to be like those who you spend the most time with. In other words, if you spend your time with social groups which are not productive and spend all day wasting their time.
Your brain will follow the same and make you fall in the same category.
Therefore, if you want to stand out in your life, engage with people who are more successful than you, it will motivate and inspire you to hustle more.
Try out new things — If you want to be different and explore your imagination then trying out new things will be one of the best.
It will also help you to find your deepest strength along the process.
This is one of the laws from the book "The 48 laws of power", in this above picture it is clearly stated, "How being different" increases your chances of being successful.
Improve yourself daily — Write down your daily goals, and try to accomplish them. Excellence is not a coincidence, it is a set of frequent habits that completely change you in a few years for betterment.
Study successful people — all the people who have influenced humanity to have something in common, and you have to study them because they already had the secret formula that made them stand out from others.
What makes a person extraordinary?
being extraordinary is not far from our reach, if you know yourself and be persistent in focusing on your strengths, then you can easily be different among the crowd.
Focus on what you can change, instead of spending your energy in uncontrollable things.
Love the process, winning is not the most rewarding factor of a successful journey but it is the process of getting it.
Stop comparing yourself stage 2 with someone else's stage 20. You never know what they have gone through.
Always say less than necessary, it makes you more mysterious and people like secrets.
Never make a decision in your life based on emotions and attachments.
Conclusion —
Therefore, whenever you feel like you are becoming like everyone else, then you need to stop and think. your life is your greatest gift and we all human beings bring unique abilities with themselves.
Unfortunately, the majority of them never even find out "What are those", don't repeat that same mistake.
Now, it is the time
Share this article if you agree, and let me know any other thoughts you have.